Entrepreneurship
Make work of your business (Maak werk van je zaak)
ESF – 2013-2018

In Flanders, unemployed who want to start up their business, are being coached and advised by Syntra West through making up a business plan and tailored support towards their start-up. In collaboration with the Labour Office VDAB candidates are being screened and supported.
FOR WHO?
Your are unemployed in Flanders
HOW ARE YOU SUPPORTED?
STEP 1: Screening by the consultant of the Labour Office
Take up contact with your local Labour Office. After a positive evaluation of your project idea and plan, you are forwarded to the collective info-session of Syntra West.
STEP 2: Intake with the advisor of SYNTRA WEST
After a positive intake with the advisor, the pre-starters can enter a coaching program 'Make work of your business' for a maximum of 6 months of orientation, followed by 6 months of follow-up support.
STEP 3: Orientation
In the period of maximum 6 months the pre-starter needs to work out a detailed business plan of his/her project. The pre-starter is offer a budget of 500 euro de menukaart "Maak werk van je zaak". to take guidance and support from specialized organizations and intermediates in business support in Flanders. When the unemployed want to start up a full time private business after this Orientation, he/she can enter a final follow-up period of 6 months.
STEP 4: Follow up
In the follow up period the prestarter can make the last preparations before the start-up. Specific support and advice is given to enhance to potential of the start-up.
Further info: www.maakwerkvanjezaak.be
Actie voor Starters

West-Flanders is traditionally characterized as an entrepreneurial area, known as 'Texas of Flanders'.,…
Its scale and diversity of family owned sme's is simply enormous and the lifeline of the economy. Locally set up small business have developed into international cooperates as Picanol, Bekaert, Vandewiele, Barco, TVH, Ghelamco,… employing tens of thousands of employees worldwide. 'Action for Starters' is a program to ensure this enterprising spirit for the 21th century in West-Flanders. The aim of the program is to stimulate pre-starters and support start-ups.
From the very start of business, start-up need to make choices and decisions on branding, personnel, organisation, business model, type of company,… Action for Starters provides coaching, support, training and advice to enable to entrepreneur to make the right choices.
Syntra West cooperates with Unizo, the province of West-Flanders, the Chamber of Commerce VOKA, the provincial development organization (POM) and local communities to support starters in the specific needs. Every quarter, Syntra West organizes training of 3 sessions of Financial and Commercial Management in Kortrijk and Bruges. We coach starters individually on aspects like Marketing, Finance, Organization and Legal issues.
Further information: www.actievoorstarters.be
Mentoring of Ethnic Starters (MOES)
ESF – 2013-2015
Several studies and statistics show that there are many barriers for immigrants and ethnic minorities to start a business. They have little or no knowledge of the official institutions, organizations and channels to find proper support and advice and often depend on support from people in their own community, based on trust. However, qualitative and professional support are key in the success of new businesses.
Ethnic starters need support (business plan, language, networking, finding clients,…) as well as advice (regulations, book keeping and administration,…). They have a bigger need of accessible service delivery, tailored on their specific needs. Starters advisors point out it is important to have a tailored service delivery, based on the needs of the target group. However, they emphasize the lack of roll models and the importance of liaison or bridging officers from the ethnic communities to reach the ethnic starters. "Trust" is key and needs involvement of the ethnic community and personal coaching of starters via liaison officers for example.
Through the mentoring of ethnic starters program, bridge figures as managers, entrepreneurs,… are trained as mentor for ethnic start-ups and act as a bridge to organizations and business and the ethnic starters as well as mentoring the start-up is it development and growth.
For further information follow this link.
Enterprise in Class
Many teachers in secondary education can do an apprentice in a business to learn about new (technical) evolutions in business. This knowhow and expertise can be used in their classes to give students a better insight in the required skills for the labor market. Through the program 'Enterprise in Class' the teachers are replaced by entrepreneurs in the class room while they are doing the apprentice in the business. These entrepreneurs testify about their experiences in running a business to the students. This way, students get a better idea of entrepreneurship and enterprising skills.
All teachers in secondary education can apply for an apprenticeship of one week or two weeks with an apprentice in a company of their choice.
During the pilots of 2013 and 2014 over 60 teachers made an apprentice and were replaced by entrepreneurs in their classroom. Both teachers and students were very positive about these pilots.
In the school year of 2015/2016 this project is prolonged.
For further information follow this link.
Enterprising Europe
Lifelong Learning Programme – 2013-2015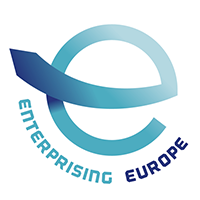 Innovation is a must for European companies to stay competitive in a rapidly transforming economy. The (r)evolution towards the products and services of tomorrow is made possible by the creation and testing of challenging ideas through enterprising people.
The partnership [Syntra West (BE), Syntra Flanders (BE), Petroc College (UK), Momentic (UK), RPIC-IVP (CZ), DAP (CZ), Entrio and TVH (BE)] of the Leonardo project 'Enterpring Europe' has developed an online platform www.enterprisecall.com which identifies the enterprising strengths and talents of employees/entrepreneurs and fosters networking by sharing innovative ideas and business plans. The applied method is unique in Europe and gives individual analysis on the level of personality, knowledge, attitude and motivation.
Companies and organizations can launch calls or challenges to which employees or others can submit a proposal. New approaches and ideas and enterprising people are brought together within the company or society.
Based on the screening of the tool, tailored trainings for students, entrepreneurs and companies are organized, evaluated and redesigned in order to give practical, no-nonsense training which gives added value for the use and impact in the workplace. From the evaluation as well as interviews with companies and a desk research, a paper on proposals for soft skills management in companies is published.
On the international dissemination event on 2nd of February 2016 in Brussels, HR managers, trainers and staff in VET, brokers, social and non-profit organizations can experience these innovations and share experience with each other. During this event, the products of the project will be presented and entrepreneurs and companies will testify about the development of enterprising soft skills. This will be network event for the triple-helix organizations.
More info: www.enterprisecall.com